Norfolk Coast Landscape Photography Workshop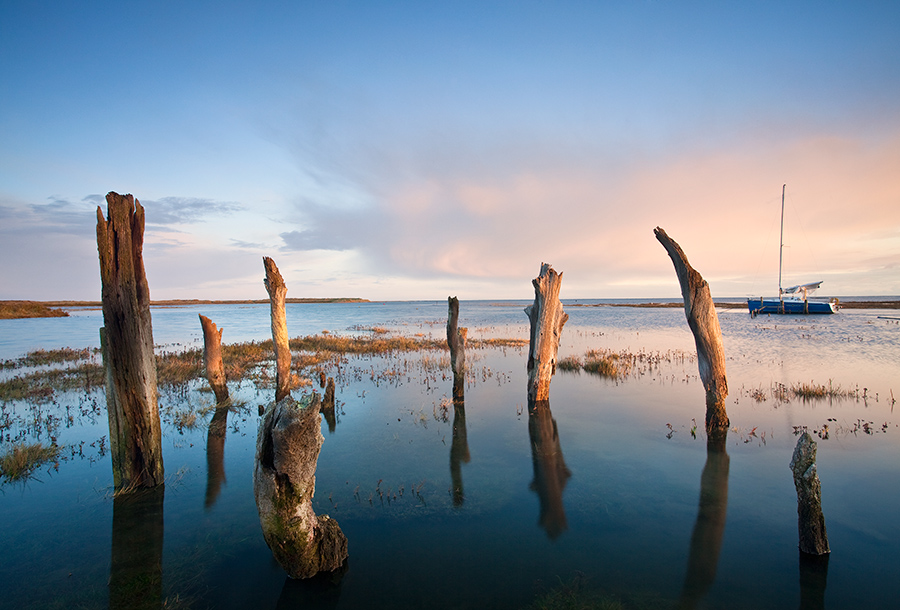 Norfolk Coast Photography Course
The Norfolk Coast is incredibly varied, with a real mixture of sandy beaches, salt marshes, colourful cliffs, wonderful fishing harbours and stunning sand dunes. Through in a few Victorian piers and a few lighthouses for good measure and there is certainly no shortage of places to photograph.
This workshop / Norfolk Coast Photography Course is based on the North Norfolk Coast where there is so much to shoot. This coastline offer endless opportunities throughout the year. In the Summer months due to the more northerly position of the setting sun most locations will get the sun setting, and rising over the sea. During the summer months the salt marshes also come alive with colour as the Sea Lavendar begins to bloom. During the winter you get to enjoy wide open beaches, big dramatic skies and some stunning light. Old Hunstaton is the final location for this workshop in the winter months, due to it's position overlooking the Wash the sun sets over the sea throughout the year. Hunstanton offers it's famous colour cliffs, excellent rocks for foreground interest, a lighthouse and a shipwreck to include in compositions.
From August to April the North Norfolk Coast landscape workshop usually starts at Holkham during the day and then we finish towards Old Hunstanton for a sunset shoot. Between May and July we normally start at Morston or nearby and work our way towards Cromer where we will shoot the sun setting over the sea and pier.
If you want to double check the start and finish times along with locations for a workshops then please do not hesitate to contact the office. Winter photography workshops usually last six to seven hours and the summer courses usually last five to six hours.
This Norfolk Coast photography course is aimed at all levels including complete beginners. Due to the way I teach this is a more relaxed way of working as opposed to learning in a classroom environment, we will be shooting first hand and seeing how the changes we make in our settings, approach and technique affects are images. Due to the small group numbers on the courses I will also be going around each individual photographer to also make sure what is taught is relevant to you and your camera.
For further information & booking forms for our one day workshops please click the below link or contact the office for a one day workshop brochure .
Norfolk Coast Photography Course
Location
North Norfolk Coast
Dates & Availability
Sat 27th Jan 2024 – £65.00 (New Date Released)
Sat 22nd Jun 2024 – £65.00(New Date Released)
Sat 21st Sep 2024 – £65.00 (New Date Released)

This workshop is always an afternoon or late morning start finishing at sunset unless otherwise stated
Cost
£65
Fitness Level
Moderate, most walks will be around 5 – 15 mins to reach our location
Start Location
Normally Holkham, June date will start at Happisburgh
End Location
Most workshops finish at Old Hunstanton for sunset, for summer workshops in May, June & July we usually start at Morston and finish at Cromer Pier for sunset.
Workshop Duration
Approx 5 hours (each workshop will include a sunrise or sunset shoot)
Transport
Transport will be in our own vehicles, although I can often pick people up and drop them off at, or close to our start location if required.
Food & Drinks
Food and drink are not included in the workshop price, snacks or a pack lunch is recommend.
Ability Level
This workshop is suitable for all abilities including complete beginners.
What To Bring
Camera, a wide angle or standard lens, warm clothing and suitable footwear. Tripod & Filters (A tripod can be provided if you do not own one)
Filters
Lee filters have kindly provided a large selection of ND Grad kits and Big & Little Stopper filter kits that workshops participants can use during the workshop.
To Book Online
To purchase a place on this workshop please click the buy it now option below, payment can be made online or you can send a cheque in the post. During Checkout Please type in the workshop date you require and any other instructions (such as if you would like a gift certificate) in the Order Notes box.