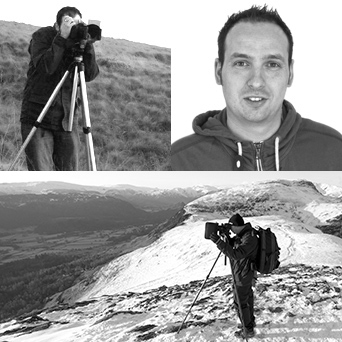 Hello and thank you for visiting my website.  I am a full time landscape photographer & fine art printer based in the village of Martham on the Norfolk Broads. I first became interested in photography in 1999 whilst studying the subject in the Sixth Form and continued my interest further by assisting a leading Wedding photographer based in Manchester. I began by shooting with film before moving to digital in 2003. I learnt photography from a mixture of reading books, magazines and on the spot training by working with other professional photographers.
In 2007 I finally decided to take the plunge and become a full time professional photographer after receiving a  four month commission offer from Bernard Matthews. They had seen my pictures as an amateur photographer, liked my style and wanted to commission me to shoot local Norfolk images for their rebrand. Since then I now have work regularly published in local and national magazines, I am a regular contributor of images and articles to a number of the UK's leading photography magazines and I have managed to build up a loyal client base who like the style of images I produce. The thing I love most about professional photography is you are always being challenged as every commission is completely different and even as a photographer you never stop learning.
Norfolk Landscape Photographer Chris Herring
I am a Norfolk landscape photographer and live in Martham on the Norfolk Broads with my partner Sam and our Daughter Sophia. Based in East Anglia, the Norfolk & Suffolk Broads and Norfolk & Suffolk Coastline are all only a short drive away. These are the areas I most enjoy photographing as there are so many wonderful opportunities and locations that are often overlooked by other landscape photographers. The Norfolk & Suffolk Broads and the salt marshes of the North Norfolk Coast are also a haven for wildlife which means whether I am photographing landscape or wildlife images I am never short of subjects or locations to photograph. I am also lucky that my wife originally came from the edge of The Peak District National Park and with lots of family and friends in the area we try and visit the area for at least a few days every month or so. This is an area I truly love, when the sun shines the Peak District can be a photographers paradise.
With my own photography I work hard on trying to get the best possible image in camera and keeping the photoshop side of things quick and simple. I use Lee ND Grad filters to control exposure differences in camera, whilst I am not against photographers using modern image blending techniques such as HDR, I prefer to spend my time out in the field chasing the light rather than being stuck in the office merging differently exposed images for hours. For me it is light that makes a really strong image and I can often be found waiting hours upon hours in the field waiting for the light to break. If the light is poor I will either wait or return to the location at a further date. If I am not shooting a silhouette image of a great sky at sunrise or sunset then it's very rare for me to take a landscape image without natural good quality light illuminating the scene. By making the natural light such a priority I feel this ensures my images are bright and vibrant.
Since 2007 I have been teaching photography to both beginners and more experienced photographers. I currently run photography workshops / Courses and tuition throughout the year in Norfolk & Suffolk and also run a number of three day weekend courses in Norfolk, The Peak District & The Lake District. The majority of my time is now taken up with Commercial Landscape photography, one to one photography workshops or tourism photography. I also offer printing and framing services to other photographers too. I run a full printing and framing workshop. Further details can be found on my sister website at www.Photographyprinting.co.uk
Whether you're viewing for pleasure, to purchase prints or for commercial reasons, I hope you enjoy my work, please revisit my site as it will constantly be updated and new images will be added each month.
Forthcoming projects for 2022 include: Photographing landscape images of Norfolk, The Peak District, Essex, Cambridgeshire & The Lake District. I am also currently shooting landscape images of the Norfolk Broads as part of a commission so I will be spending lots of time focusing on fresh images of the Broads over the Winter months and early Spring.
Canon EOS 5DS Body
Canon 16-35mm F4 L lens
Canon 100mm Macro Lens
Canon 70-200mm L F4 Lens
Canon 550EX Flashgun
Lightsphere 2 Diffuser
Canon Remote Switch
Lee 100mm Filter System
Lee Hard & Soft ND Grad Kits
Lee 10 stop Big Stopper Filter
Lee 6 stop, Little Stopper Filter
Lee 15 stop, Super Stopper Filter
Lee Solid ND Filters
Lee 105mm landscape Cir Polariser Filter
Gitzo GT3532 Mountaineer Carnon Fibre Tripod & Gitzo head
Gitzo G1227 MK2 Carbon Fibre Tripod
Manfrotto 202 Plus Panoramic Tripod Head
Lowepro Trekker and Mini Trekker Backpacks
Canon Pro 2000 Large Format Printer