Norfolk Broads & Coast Landscape Photography Workshop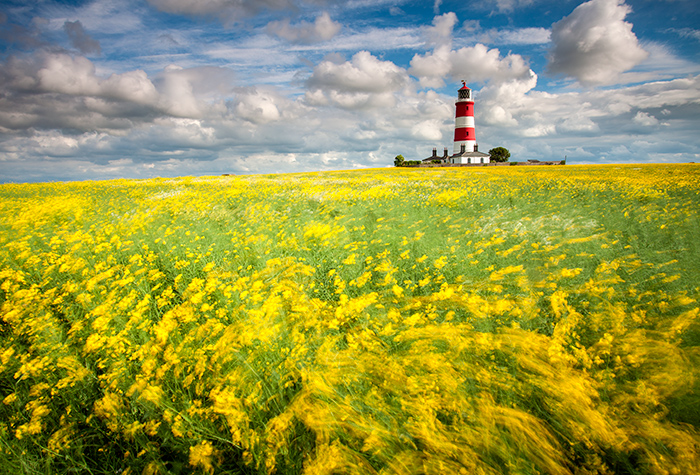 Norfolk Photography Course
This Norfolk Photography Course / workshop combines my two favourite areas for landscape photography, the stunning Norfolk Broads and the wonderful quiet stretch of coast from Happisburgh to Winterton. Happisburgh, Horsey and Winterton all offer amazing opportunities for landscape photography, on this workshop we will try and take one to two coastal locations in and two locations from the Norfolk Broads.
The Norfolk & Suffolk Broads is made up by a network of rivers and shallow lakes. During the 17th Century local landowners began draining the surrounding marshes by building drainage mills and a good selection of these mills survive today, each mill very different from the next. Unlike traditional windmills that were built in villages to grind flower the drainage mills of the Norfolk Broads are often smaller and are found on their own in remote areas of the marshland as opposed to cluttered town or village settings that is often the case with mills that were built to grind flour.
On the coast we will be looking at capturing dramatic images of the battered sea defences at Happisburgh, the iconic lighthouse and the wonderful sand dunes at Horsey and Winterton.
During the workshop we will also look at how to compose your images to get the best out of the angle of the sails, how to meter correctly with ND Grad filters and how to get the best out of such locations. We will also looking at using the light and composition on the coast.
Please note workshops between the end of September and the end of Feb the workshops may begin at dawn and at other times of the year we usually start later in the day and include a sunset shoot. Although some could start at dawn between Sep & Feb, most will start during the day and finish at sunset. If you want to double check the start and finish times along with locations for a workshops then please do not hesitate to contact the office.
This Norfolk Photography course is aimed at all levels including complete beginners. Due to the way I teach this is a more relaxed way of working as opposed to learning in a classroom environment, we will be shooting first hand and seeing how the changes we make in our settings, approach and technique affects are images. Due to the small group numbers on the courses I will also be going around each individual photographer to also make sure what is taught is relevant to you and your camera.
For further information & booking forms for our one day Norfolk Photography workshops please click the below link or contact the office for a one day photography workshop brochure .
Location
Norfolk Broads & Coast
2022 Dates & Availability
Sun 19th Feb 2023  – £65.00 (New Date) 
Cost
£65
Group Size
6
Fitness Level
Moderate, most walks will be around 5 – 15 mins to reach our location
Start Location
Potter Heigham or Happisburgh
Workshop Duration
Approx 6 hours (each workshop will include a sunrise or sunset shoot)
Transport
Transport will be in our own vehicles, although I can often pick people up and drop them off at, or close to our start location if required.
Food & Drinks
Food and drink are not included in the workshop price, snacks or a pack lunch is recommend.
Ability Level
This Norfolk Photography Course / workshop is suitable for all abilities including complete beginners.
What To Bring
Camera, spare battery, plenty of memory cards, a wide angle or standard lens, warm clothing and suitable footwear. Tripod & Filters (A tripod can be provided if you do not own one)
Filters
Lee filters have kindly provided a large selection of ND Grad kits and Big & Little Stopper filter kits that workshops participants can use during the workshop.
To Book Online
To purchase a place on this workshop please click the buy it now option below, payment can be made online or you can send a cheque in the post. During Checkout Please type in the workshop date you require and any other instructions (such as if you would like a gift certificate) in the Order Notes box.